Have you got trimless downlights installed in your home? Do you know whether they have a fire rating or not? Basically, fire rated downlights will prevent the spread of a fire should one ever break out in your home. They have actually been designed to meet the various building codes and regulations that surround fire safety and, seeing as they could be vital tool in ensuring the safety of your family, most people are willing to wear the slight extra cost that these downlights entail.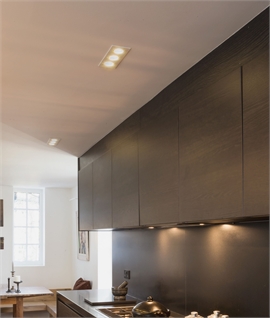 Fire rated downlights are made with intumescent materials, which expands when it reaches a certain temperature. This will seal off the hole created by the installation of the downlight and help to prevent the spread of the fire into the structure of the building itself. This requirement is due to the process involved in installing downlights - a hole is cut into the ceiling through which the downlight is mounted. If a fire were to break out, the flames would be able to get through these holes and set the integral structure of the building alight. In a matter of minutes, your entire ceiling could have collapsed.
According to building codes and regulations, the minimum fire rating for downlights in a ceiling with joists 600mm apart is 30 minutes. This means that the downlights will expand to fill their mounting holes and will hold the flames off for 30 minutes, allowing the occupants of the building plenty of time to escape, the fire brigade to extinguish the fire, or for the entire structure to be penetrated and it collapses. For ceiling joists with a spacing of 450mm, the minimum rating for the downlights becomes 90 minutes.
This does not mean, however, that fire rated downlights need to be installed in every room of every home. In ceilings where there is only roof above the light, they fixtures don't need to be fire rated because the risk of the flames spreading through the holes and into the structure of the building is fairly minimal. Also, if your home has been constructed using other fire safe materials, the use of fire rated downlights is not required.
On top of their safety and prevention in the event of fire, these trimless downlights are also useful in protecting your home against moisture and resisting acoustic penetration. Downlights that are not fire rated, for example, will easily allow warm air to escape through the holes, meaning that you will need to use your heater more often to warm the space.